Invoice Cloud takes giving back to our community seriously — it's baked right into our organizational DNA. (Fun fact: the "S" in our CLOUDIES values actually stands for "Support the Community"!) And after the tumultuous 2020 we all experienced, there have never been more organizations that critically require our attention.
Whether through our time or through monetary donations, the ways in which Invoice Cloud gives back vary from year to year. Our volunteer and donation efforts often arise as global situations unfold, or they might be planned contributions through "Invoice Cloud Cares," a charitable effort that gives several times of year to help people in need.
One way this support changes annually is through our "In Your Honor" donation. At the start of each New Year, Invoice Cloud selects a charitable cause to support on behalf of our clients, as a special show of gratitude. Since 2021 is in full swing, we wanted to take a moment to share some information about the organization we've chosen for this year's gift and share the stories of a few other important groups we've worked with in the past.
This
y
ear's
d
onation
: Covenant House
On behalf of all Invoice Cloud clients, we're thrilled to announce our first donation of 2021 will go to Covenant House. Covenant House was a clear choice for many reasons, but particularly due to the devastating spike of evictions and homelessness that have followed in the wake of COVID-19.
Here's a brief overview of the Covenant House mission, in the organizer's own words: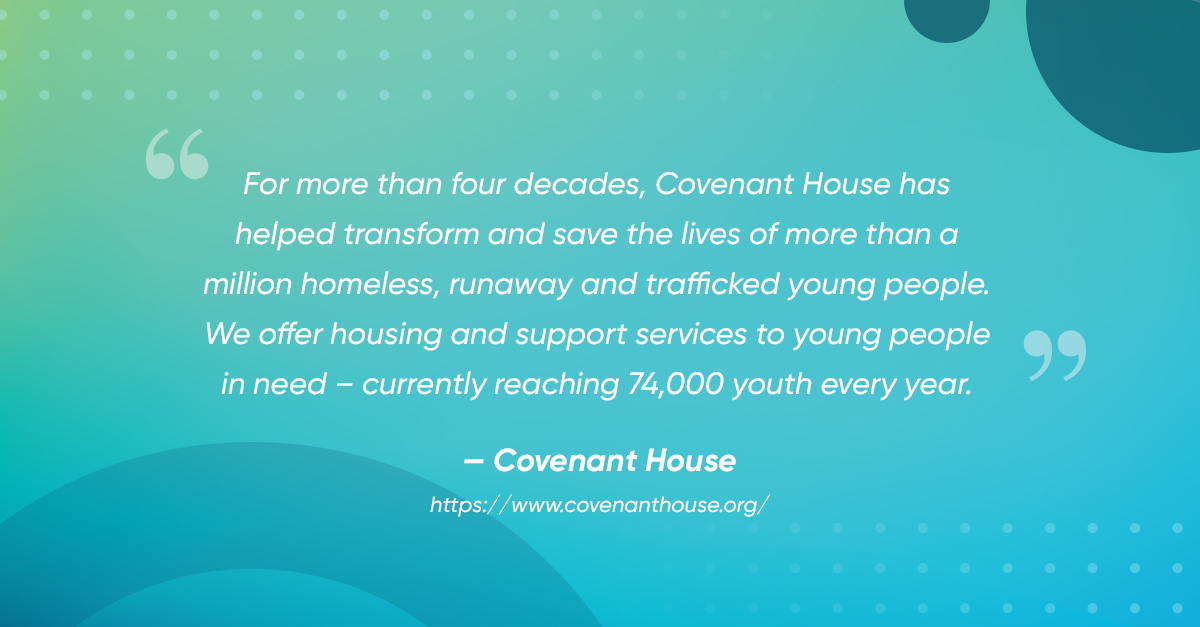 Since the COVID-19 pandemic began, Covenant House has provided young people with nearly 1.5 million healthy meals, around 620,000 nights of shelter, and nearly 500 isolation spaces (and the equipment they need to stay safe). Donations to Covenant House will help countless children receive these emergency, lifesaving services and much more.
Beyond their efforts to rescue kids from the dangers of this global pandemic, Covenant House has helped transform and save the lives of over one million homeless children since its founding in 1972. Invoice Cloud is honored to contribute to that mission on behalf of our clients.
If you're able to, please consider donating to Covenant House here.
Previous d
onations
Every organization we donate to on our clients' behalf is special and critical to people in need.
In 2019, Invoice Cloud gave to the American Foundation for Suicide Prevention (AFSP) in honor of our clients. Established in 1987, the AFSP is a voluntary health organization that gives those affected by suicide a nationwide community, empowering all to take action against this leading cause of death. Invoice Cloud's donation was able to fund research, education, prevention, advocacy, and survivor programs to assist those affected by suicide.
Before that, a gift was made on our clients' behalf to the National Forest Foundation (NFF), a leader in forest conservation efforts and a critical promoter of responsible recreation. Through the NFF's Tree Planting Program, we were able to plant hundreds of trees for our clients — a true win/win considering Invoice Cloud's efforts to reducing paper waste.
Invoice Cloud empowers clients
and employees
to give back
This passion for community support also extends to every individual member of our team and to many of our incredible clients and partners.
Invoice Cloud empowers our staff to give back in their own way, on their own terms, with full company support. We even walk the walk by giving employees eight hours of time a year to give back to their communities in whichever way they'd like.
For clients, our Donation feature allows billers to collect charitable funds from payers during the payment process. Billers can choose which (and how many) organizations they would like to feature during the payment route. Then the Invoice Cloud platform allows payers to select which organizations they would like to give to, even enabling customers to round up their total and donate the excess funds to the charity of their choice.
Again, if you're able, please consider giving to Covenant House, the AFSP, the NFF, or any local organization that helps people in need in your community.