There's a lot to love about being part of the InvoiceCloud team. Whether it's our commitment to our communities, our passion for creating a stellar product, or the fierce competition at Friday trivia, every Cloudie has a different reason why they were drawn to the InvoiceCloud community.
One key value that's ingrained in the InvoiceCloud DNA is a deep respect for work/life balance. Everyone, at every level of the organization, understands the importance of working to live rather than living to work – something that's never been more prevalent than now.
COVID-19 has effectively blurred the line between work and home for many remote workers. This poses an especially daunting challenge for working parents, who are navigating both the requirements of their jobs and their family obligations.
Nina Garcia is one of those parents, currently balancing her role as an Administrative Assistant at InvoiceCloud and her life as a single mom to a 15-year-old daughter. Before COVID, Nina worked in InvoiceCloud's Brownsville, Texas office from 8 a.m. to 4 p.m. and spent post-work hours taking her daughter to various extracurricular activities – Girl Scout troop meetings, soccer games, and cheer practice, to name a few.
When the pandemic was looming in April, the InvoiceCloud team immediately implemented a company-wide work from home policy. Relieved as Nina was to see the health of her fellow employees and their families being put first, she knew she was facing a new set of challenges at the prospect of working from home full-time.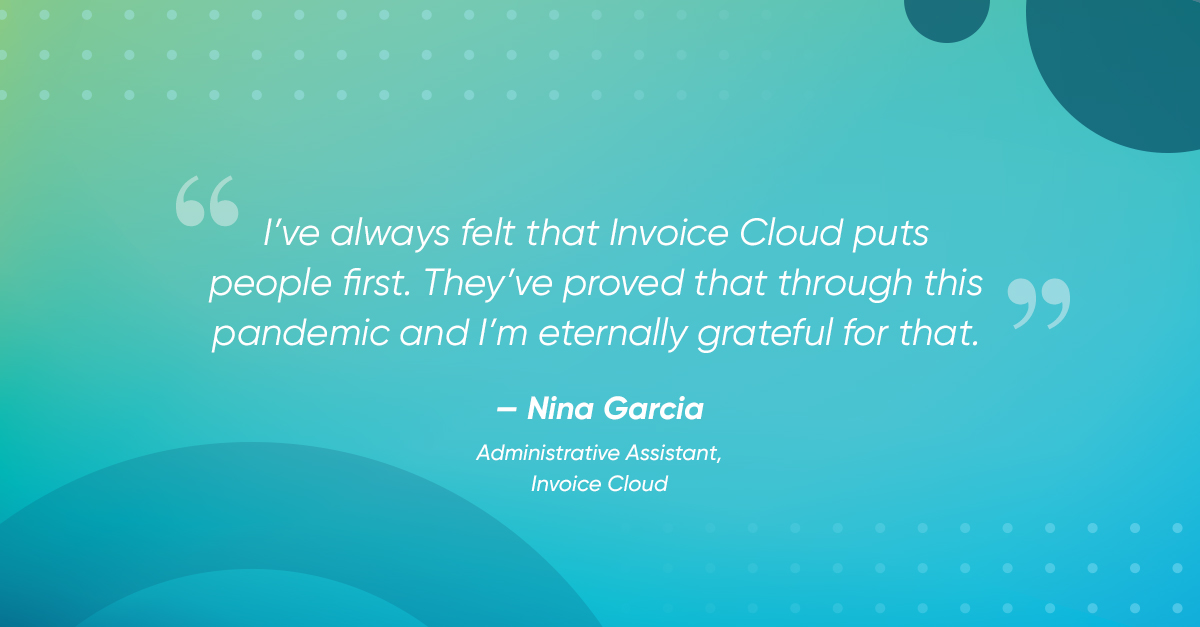 Like many parents worldwide, Nina must now balance her busy workday with her daughter's remote schooling, making sure the 15-year-old is up and ready for her first class of the day and being available to assist with her classwork when necessary. But besides being "eaten out of house and home" with a teenager at home all day, Nina and her daughter have been able to adjust to remote working with little to no difficulties. She credits a major part of their success to the flexibility of the InvoiceCloud team.
"I'm very grateful to InvoiceCloud and how understanding everyone on my team has been," Nina said. "As long I'm doing what I need to do, it's not a problem if I need to flex my hours or take the time to help my daughter with her schoolwork. My team has been so supportive in that way."
Despite how the pandemic has reshaped what it means to be a working parent, InvoiceCloud's emphasis on work/life balance has only strengthened in these unprecedented times. Beyond accommodating the often-crazy schedules of InvoiceCloud parents, the organization was – and still is – committed to making the transition to remote working as smooth as possible.
Most helpful for Nina, she was able to take home her two monitors and everything she needed from the office to do her best work. And when she's missing her co-workers, there are plenty of ways to connect with the Cloudie community. Besides tuning into the weekly company meetings to play trivia and get a transparent look at company growth, Nina relies on the parent Slack channel to chat about school, celebrate birthdays, and check in with her teammates.
"It's nice to see how people across the country are doing," Nina admitted. "I think we're all feeling the same thing – tired. But maintaining that community aspect is so great."
Although this new normal for working parents is far from over, Nina considers herself extremely fortunate. Whether it's the health and safety of employees or the thoughtful transition to working at home, Nina feels that Invoice's Cloud response to COVID is indicative of what her organization stands for.
"I've always felt that InvoiceCloud puts people first," Nina said. "They've proved that through this pandemic and I'm eternally grateful for that."
Interested in joining the InvoiceCloud family? We're still looking to grow our team. Check out our open positions here.