This past year was an unprecedented one – one that asked organizations across all industries to reevaluate and reimagine how they provide products and services. For billing organizations, one important transition has been an increased focus on online payment adoption, or 'e-adoption', to meet increased customer demands for safe, contact-free payments. 
Why does this matter?  
Beyond the heightened safety concerns of 2020, the upward trend of online payment adoption is critically important for the success of billing organizations everywhere. 
For an electronic bill presentment and payment (EBPP) platform to drive results, customers need to use the platform to receive and pay their bills. The more customers who use the EBPP platform to pay their bills, sign up for paperless billing, or enroll in automatic payments, the less time your staff needs to spend on each of these items.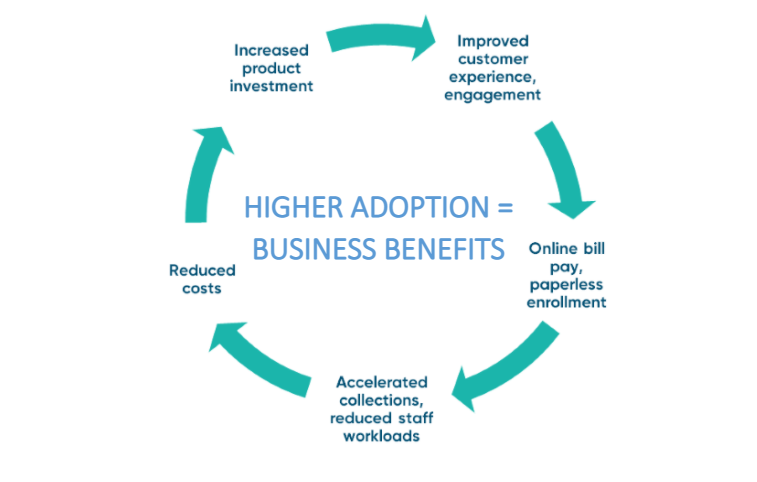 Most importantly, increased e-adoption and customer self-service translates to positive business results, such as increased customer satisfaction, accelerated collections, cost savings, and decreased manual labor and staff workloads. 
For more information on the importance of measuring online adoption (and how to measure your organization's current rate of e-adoption) check out this blog. 
2020: A year of online payment growth
Despite the accelerated need for online payments in 2020, e-adoption has been growing at a steady pace for several years. This is a result of both changing customer expectations – particularly for younger generations – and evolving technology. 
We've all witnessed Google's domination of online advertising and Amazon's eclipse of brick-and-mortar retailers by harnessing innovative tech. As such, daily interactions with these digital disruptors have heightened our expectations as consumers. We now expect every service to offer a convenient and simple online experience – and the experience of paying a bill is no exception. 
To keep pace with the growing demand of modern consumers, savvy billing organizations have spent recent years investing in online payment options and driving payers to those digital payment portals. 
However, as we're all aware, this past year has emphasized the importance of contact-free and digital payment methods. COVID-19 has encouraged consumers to search for safe and remote ways to pay their bills. Likewise, billing organizations are looking for innovative ways to improve efficiencies and continue collecting payments, while keeping their staff safe. 
With innovative tech and global health concerns raising the stakes, it's no wonder online payment adoption has been garnering an increased focus in recent years. 
Real examples of increased online payments
At Invoice Cloud, we focus on delivering online payment solutions that drive real results for our clients. With a platform designed with the customer experience in mind, the Invoice Cloud solution engages customers at every point throughout the payment process. This user experience is why our platform consistently drives 2 to 3 times the industry average adoption rates and record enrollments in self-service options like paperless billing and online payments.  
Here are some examples of Invoice Cloud clients that have seen tremendous improvements in their online payment adoption rates by partnering with us. 
The 
City of Monroe
The City of Monroe's existing payment platform was unable to meet the changing demands and expectations of its customers. The system was only able to process tax, water, and sewer bills, and could not process any other invoice types generated by their billing software – creating a frustrating user experience and low levels of self-service, while increasing mail and in-person payments. 
After implementing with Invoice Cloud, the City of Monroe has seen an enhanced user experience resulting in higher customer satisfaction rates, driving a 77% spike in paperless enrollment and a 41% increase in e-payments.  
Watch the video below to see the full results the city experienced after increasing its online payment adoption: 
California Mutual Insurance Company
California Mutual Insurance Company's legacy payment processing system was difficult to use, lacked self-service functionality, and was not fully integrated with the company's core policy administration system. Since the implementation with Invoice Cloud, California Mutual has seen e-payment adoption rise by over 150% and paperless enrollment increase 15-fold.
Watch the video below to see the full results California Mutual experienced after increasing its online payment adoption: 
Driving online payment adoption
Even with an existing online payment system in place, educating customers about their ability to pay bills online and encouraging them to use your digital platform can be challenging. If your organization is struggling to drive payers to online channels, keep in mind the importance of payer communications. The key is to leverage every channel at your organization's disposal to communicate clearly and consistently with customers.
Each payer receives information from different sources, so it's best to communicate with them in a variety of ways. In fact, in a recent poll of Invoice Cloud platform users, we found that payers use a variety of methods – from mobile options to calling automated kiosks – to access their payment portals.
As your organization continues to encourage customers to pay online, here are 4 key tips for promoting online bill payment options.
Looking forward: The future of online payments
Going forward, billing organizations will need to place a heightened focus on improving online payments and meeting customer expectations. In our next post, we'll reveal our biggest predictions for the online payment industry in 2021, covering everything from new payer expectations to the technology channels your organization needs to optimize.
In the meantime, to learn more about how this year has shaped consumer behavior when it comes to online payments, download our research report, The State of Online Payments, below.
To learn more about how Invoice Cloud can help your organization dramatically increase online payment adoption, schedule a demo today.