When it comes to making payments, customer expectations can change rapidly — and it's your organization's job to keep up. And if your organization has limited customer touchpoints, the online payment process can often make or break the customer experience.
While many organizations know they need to focus on the customer experience to remain competitive, it's hard to know where to get started. That's why Invoice Cloud conducted an online survey this past September to better understand the current landscape of online payments. We asked respondents 10 questions about their payment preferences, payment trends, and general behaviors around making payments. In total, we received 1,725 responses.
After digging into the survey results, we gleaned some key trends that organizations everywhere can use to save time and resources, improve collections efficiencies, and strengthen their payment experience. We've outlined our major takeaways in this research report, but here are a few key points and ways to use this data to get you started.
1. Mobile and online payment portals need to be optimized
To start, we wanted to understand how respondents pay their monthly bills. We asked participants to select all the channels through which they've paid a bill in the last 12 months.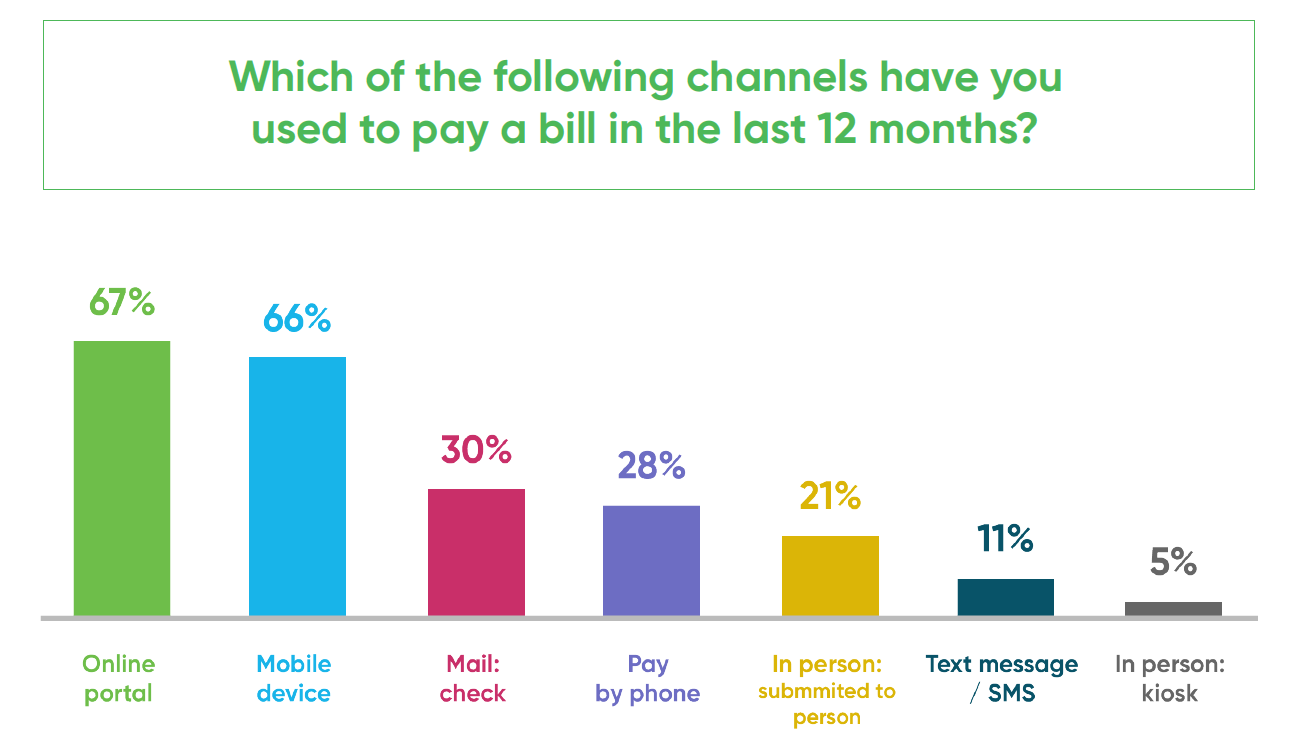 Age did play a role for some payment channels. For instance, nearly 50% of respondents age 61 and up have mailed in a check, compared to just 30% for all respondents and less than 25% for those under the age of 45.
Additionally, paying a bill on a mobile device was already one of the top responses, but the percentage increases from 66% to 76% of participants when we just look at respondents age 30-44.
How to use this data to improve online payments:
Since mobile and online channels are the most popular payment routes, it's critical to optimize these channels. Your organization can accomplish this by paying special attention to the user experience of your mobile and online channels.
Ask yourself (and your team): what is it like to pay a bill on our digital platforms?
Make sure your online and mobile payment platforms are straightforward and simple to navigate, even if you have to walk through the payment process yourself to determine how easy (or difficult) the systems are to use.
2. Convenience and flexibility are key, but security is still a concern
To learn a little more about why so many respondents prefer digital payments, we asked them to choose the statement that most accurately reflects why they prefer to pay bills online or via a mobile device.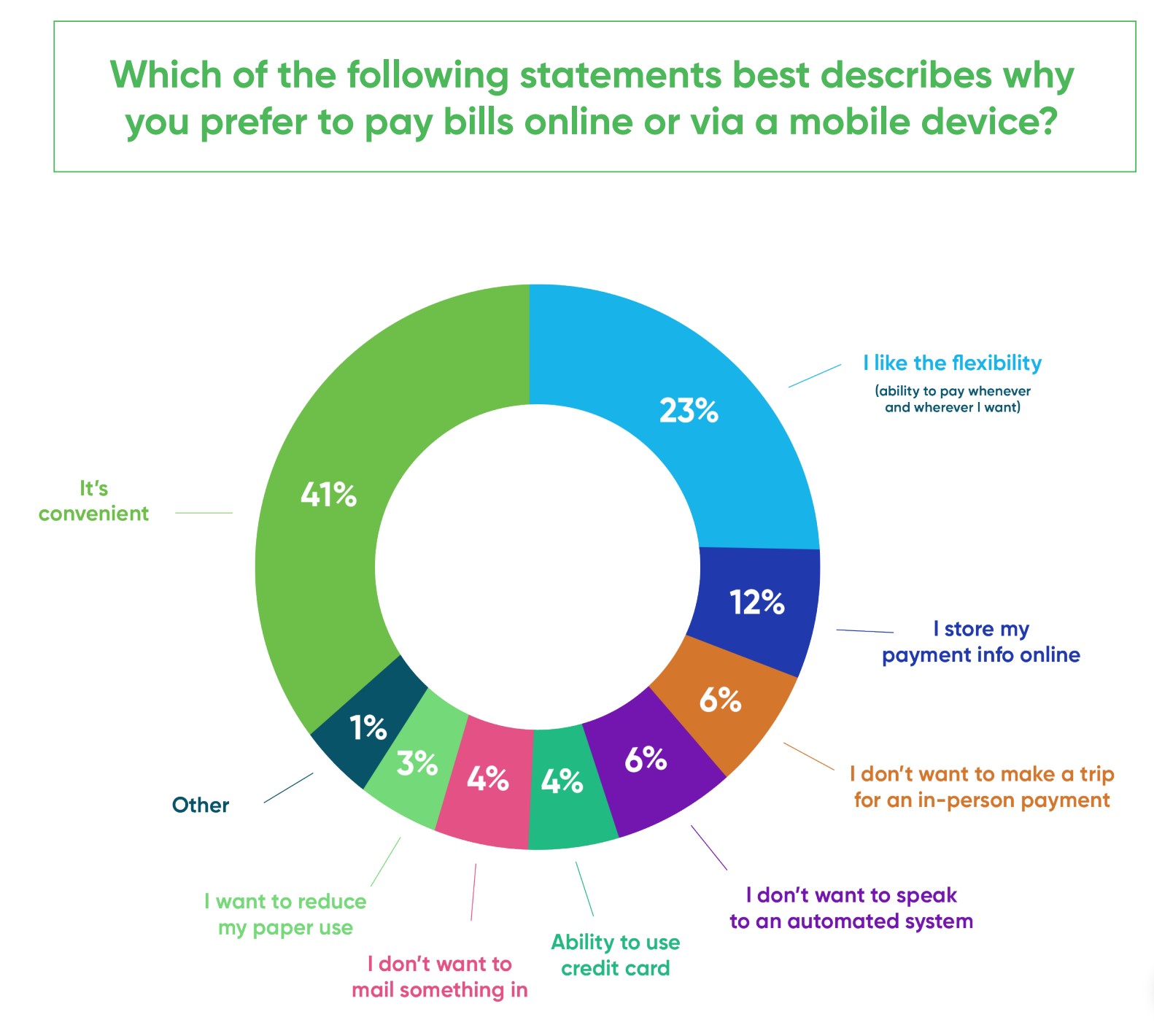 We were also interested to learn more about respondents who to not to pay their bills online. When asked why their preferred payment channel was not mobile or online, 32% of respondents selected "I am concerned about the security of my information."
How to use this data to improve online payments:
By their nature, online and mobile payment routes are already convenient payment options. But one critical aspect of this convenience is presenting customers with omni-channel options.
Omni-channel means providing customers with as many ways to pay their bills as possible, while still retaining context across channels. Providing a variety of payment options is, obviously, critical – but we can't forget that omni-channel routes are not nearly as effective unless every channel is designed for ease of use. The only way you can offer true omni-channel capabilities is by designing each channel to be simple and intuitive for the customer.
To ease security concerns, make this a top priority when selecting an online payment platform. One critical way to ensure the security of customer data is to select a true Software as a Service (SaaS) platform. By design, SaaS platforms can automatically roll out updates and security patches to all customers at the same time – so you never have to worry about being exposed when security standards or data regulations change.
3. Consumers are more willing to enroll in paperless billing than automatic payments
When it comes to paperless billing, we asked respondents how many bills a month they've opted to receive digitally.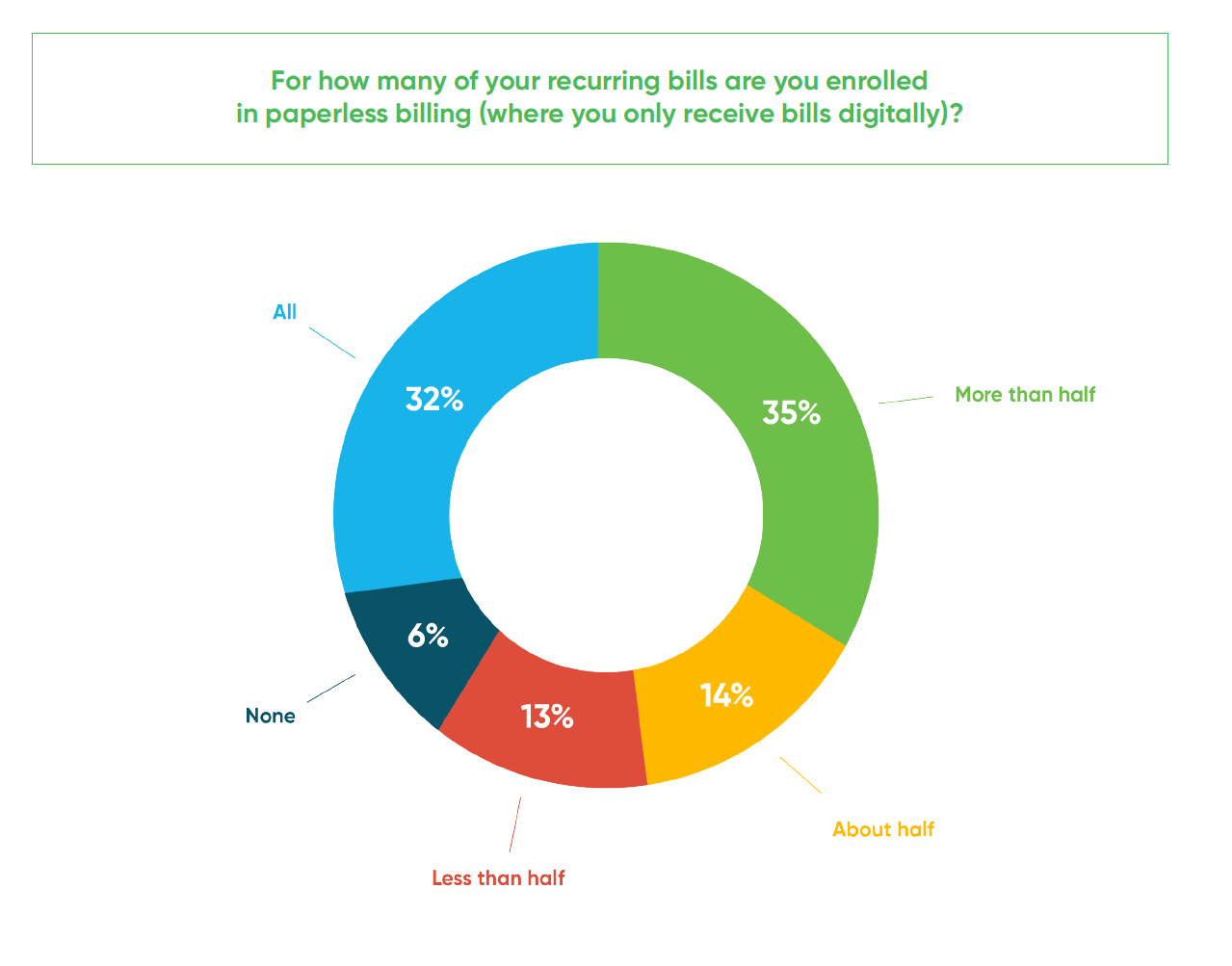 When we asked respondents who selected 'None' why they've declined to enroll, 56% of respondents said they prefer to receive a paper bill. The next most common response was, "I'm concerned about missing a bill notification," which was selected by 28% of respondents who haven't enrolled in paperless billing. And, finally, 6% of respondents claimed they are "unsure how to enroll" in paperless billing.
Another effective self-service route, AutoPay, isn't as well-utilized by consumers. When asked how many recurring bills respondents are enrolled in AutoPay for, only 13% responded "all."
For respondents who are not enrolled in AutoPay for any bills, 79% of respondents said that they prefer to make manual payments each month. This preference was by and large the most common reason for not enrolling, with only 8% of participants citing security concerns and 2% of respondents saying there is no option to enroll in automatic payments for their monthly bills.
How to use this data to improve online payments:
These survey results reveal an opportunity to leverage intelligent communications to ease concerns convert customers to self-service.
First, make sure the two major concerns around paperless – missing a bill notification and being unsure how to enroll – are addressed internally. Confirm that your online payment system can distribute payment reminders across multiple channels and that your paperless enrollment process is quick and simple.
Then use clear messaging to engage payers and confront their worries. Include a note on paper bills that explains how to sign up for paperless billing, and allow customers to sign up at any point throughout the payment process. Let customers know that they will receive up-to-date, targeted bill notifications with clear instructions on how to pay.
To increase AutoPay enrollment at your organization, focus on lowering barriers and removing obstacles. Start by making AutoPay enrollment as simple as possible. For the customers, signup up should be as simple as checking a box and choosing a payment method.
Just like with paperless billing, you'll then need to use consistent communications to make the presence of AutoPay as an option very obvious. Promote this self-service route and its simple enrollment across all your payment channels to boost AutoPay adoption.
To read the full research results and our key takeaways, download our report on the State of Online Payments below.